BIG FOOT WOULD LIKE TO THANK OUR FRIENDS AND FANS FOR YOUR SUPPORT 
MARIA VOLCE, WRIGHT STILL, "J.D. "- AKA, JOHN DOYLE, DAVE HARDY, TOM VOLCE,  OUR MUSICIANS WE COULD NOT HAVE DONE IT WITHOUT YOU. 
BANDZOOGLE FOR HOSTING OUR WEBSITE FOR ALL THESE YEARS.
MIKE MARTIN, RIC SANTIAGO, MAURICE RHODES, DAVID STEVENS, THUMPER SCANDIFFIO,LEE HART, ERIC ELSNER, RON GRAVELY, HENRI AUGERO, J.R. FARLEY, TIM VOLCE,  LORI VOLCE, RICH GRILLO. "BAREFOOT" JOHNNY, KENNY STOCKTON
ALSO, BOB BECKETT, ROBIN KELLY, BRYAN MANDELL,  JOHN NORTHUP, NEIL ALEXANDER, TOM MIGNELLA, ALLAN COOK, JOHN BELL, JOE RENDA.
LAST & NOT LEAST, RICHARD A. SMITH, A GREAT BASS PLAYER WHO LEFT US TOO SOON, (2018) YOU ARE MISSED. 
AND ALL THE GREAT MUSICIANS, FOR THEIR HELP OVER THE YEARS.
WE ALSO WISH TO THANK ALL OF THE VENUES & VENUE OWNERS AND MANAGERS WHO HAVE SUPPORTED US SINCE 2011 :
BARBARA DILLON ,B.J. HOYT, MARIAN INMAN, TIM PEARSON, REX MCKEEN, ED BURBACH, 
 WHISKEY RIVER,  BRITS, MERMAIDS, BEACON SQUARE, THE ELKS, VFW'S, FOE'S & MOOSE LODGES, SEASIDE, THIRSTY MARLIN, LEO'S ITALIAN RESTAURANT.
ALSO, SHRIMP WRECKED, RED STAR ROCK BAR, SKINNY'S, GET HOOKED, BRENNANS, UPPER DECK, PICKLED PARROT, BOURBON BLUES  HOUSE,  R.BEACH, SNAPPERS, DOCKSIDE, THE COVE, THE HANDLEBAR,  & RIVERSIDE RESTAURANT.
JONI  INDUSTRIES, JACK LINK'S BEEF JERKY CORP,  AND ALAN CANDY CORP.  
AND ALL THE MUSICIANS THAT HAVE SHARED THE STAGE WITH US.
THANKS TO ALL OF THE FOLKS THAT COME OUT TO SEE &  AND PARTY WITH US - YOU ARE THE REASON WE DO THIS !!! 
JUST TO MENTION A FEW, STEWART CHAMBERS, MARIA VELA, MARLENE & BILL LEWIS, ANITA HIXON, BOB & MARY DAUGHERTY, DON PEYTON.
DON STEELE, STEVE & LOIS & BARRY, MR & MRS. CHARLES CHIOFALO, BANJO BOB, FRAN CROWE, EDITH BALL, ALBERT HICKS, ROY, VIRGIL & HOWARD AND THE REST OF THE " BEACON SQUARE GANG,  KAREN FIX, MARGIE MCGRATH, LYNN HARPER AND WARREN.
......AND THANKS TO ALL OF YOU THAT VISIT OUR WEBSITE - WE HAVE VISITORS FROM ALL OVER FLORIDA, AND FROM VA, GA, PA, CA, NJ, MD, OH, WY, NC, WA, NY, SD, OK, MO, MI, IN THE US.
PLUS  BERLIN, COLOGNE & BONN, GERMANY, MALTA, ONTARIO, CANADA, MEXICO CITY, MEXICO, NOTTINGHAM & LONDON, ENGLAND, LAUSANNE & ZURICH, SWITZERLAND, BYTOM, POLAND &  EDINBURGH, SCOTLAND, NEW SOUTH WALES, AUSTRAILIA, PERTH AUSTRALIA, & CURITIBA, BRAZIL.   
Thank you, Maria, for all that you do :
Road manager, event coordinator, band photographer & videographer,  advertising artist and data entry for social media, and most importantly for the love and moral support. 
*****************************************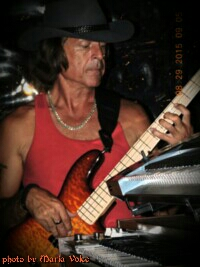 AND A SPECIAL THANKS TO DAVE (HAT) STEVENS FOR SITTIN' IN WITH US ON THE BLUES.